Everyone knows to start Peyton Manning every week, regardless of the match-up. But not all decisions are as easy at that one. So to help you decide who you should start and who you should bench I have identified the players at the QB, RB and WR positions that should excel this week and should be started, as well as the players who will struggle this week and should be benched. Don't forget the Thursday night game—get those lineups in on time. And no need to worry about your star player being off; the bye weeks are over and everybody plays!

FYI, this week there are no Thursday, Saturday, or even Monday Night football games—everyone's playing on Sunday. Congratulations to those of you who won your league championships. And to the small minority playing in your title game this week, good luck! The only caution I have is to watch for starters who might be rested or pulled early because their game is meaningless (i.e., Patriots, Jets, Eagles, and Chiefs players).

Let's start with the QB position. You shouldn't have to be told, but just in case... always, always start the following players when healthy: Peyton Manning, Tom Brady, Drew Brees, Aaron Rodgers, Michael Vick and Philip Rivers. Now on to the question marks...

Quarterbacks
Start 'Em:
Quarterbacks Who Will Outperform Relative To Their Draft Position And Recent Hype

Eli Manning @ WAS
Has there been an uglier, more mismanaged, more embarrassing team than the New York Giants in recent weeks? Sure, Coughlin and his flunky Kevin Gilbride need to vamoose, but Eli is a major problem the Giants are stuck with "for life." Yeah, he has a lot of TDs this year, but he has almost as many INTs. He leads the league in INTs and total turnovers (counting his 5 lost fumbles)! Still, he's good for 251 yards and 2 TDs per game, so if you can absorb his 2 INTs per matchup, then he's a good option this week against the lowly Redskins pass defense. Washington's 31st-ranked pass defense gives up 263 yards per game, and although they've only given up 22 TDs in 15 games, I expect lots of scoring in this game, especially with Washington giving up the sixth-most big plays in the league.

Sam Bradford @ SEA
Bradford will get you 224 yards, 1 TD, and 1 INT per game but has his club on the brink of a division title if they beat the Seahawks this week. Seattle, while amazingly still alive for the playoffs in this division, has a horrible pass defense—29th in the league. They give up 257 yards and 2 TDs per game and allow the second-most big plays in the league (almost 5 per game). Bradford is coming off his second-best career game and should keep the momentum going against the team he threw for 289 yards and 2 TDs against last time he faced them. It's time for this rookie to put the icing on his Rookie of the Year cake with another win, a division title, and a playoff berth with another big outing to cap off his regular season. I mean, did you see what Josh Freeman did to Seattle last week?

Matt Schaub vs. JAX
Schaub is fifth in the league with 275 yards per game and his INTs are low—just 12 on the year. The bad news was his drop in TDs—29 last year and only 23 this year; the good news is he's been on a tear the last month—passing for over 300 yards in every game and throwing for more than 2 TDs in all but one of them. His 10 TDs over his last five games has suddenly brought his TD totals between last year and this year very close. You can expect his hot streak to continue against the soon-to-be eliminated Jaguars and their 26th-ranked pass defense, which gives up 250 yards and 2 TDs per game with 8.1 yards per completion (second-highest in the league) and 65 big plays (fifth-most in the league). Look for Schaub and company to be showing off their Katy Perry fireworks this weekend.

Trent Edwards @ HOU
Not to be outdone by his counterpart on the other team, Edwards, who will be filling in for the injured David Garrard, couldn't have picked a better game to start—against the league's worst pass defense. The Texans are last in the following passing categories: yards per game (277), TDs (32), QB Rating (102.3), big plays (72), yards per completion (8.4), pass completion percentage (66 percent), and 40-plus yard plays (17). That's a whole lot of "lasts," people. Garrard had been on fire recently, and we'll see if it was really him or if it's Jacksonville's offensive system. Even if it was Garrard, you should be able to see the possibility of Edwards having a big game against the Texans this weekend.

Bench 'Em:
Quarterbacks Who Will Under Perform Relative To Their Draft Position And Recent Hype

Charlie Whitehurst vs. STL
I'm putting an awful lot of stock in the Rams' 20th-ranked pass defense but, c'mon, it's Charlie Whitehurst, right? The Rams are only giving up 227 yards and 1 TD per game, plus they have the 10th-best QB rating (80.1). Their 43 sacks are better than anyone besides the Chargers, Giants, and Steelers (who all have 44), and their 57.3 percent pass completion percentage is sixth-best in the league. In Whitehurst's lone start this year he went 12 for 23 for 113 yards with 1 TD, 2 INTs, and a fumble. I'm sure he'll do better this week against the Seahawks, but it might not be by much.

Tim Tebow vs. SD
Tebow followed up his pro debut, where he passed for 138 yards and a TD and ran for another score, with his first career win last week, where he passed for 308 yards and again threw and ran for TDs. But before his legend grows any further (we're such bandwagon hoppers in this country), let's see how he handles the Chargers' top-ranked pass defense this week. San Diego is out of the playoffs and ownership has already confirmed the return of head coach Norv Turner (shocking to me) and the GM, so what do they have to play for? Not much; still, they are a much better team than the Broncos. Look for San Diego to hold Tebow in check to their average of 177 yards, 1 TD, 1 INT, and 3 sacks per game.

Jay Cutler @ GB
Cutler's 222 yards per game is just 21st in the league this year—a little low considering the offensive coordinator is Mike Martz. His 23 TDs are decent and his 14 INTs are OK, but his 46 sacks are still the most in the league, and his 10 fumbles (6 of them lost) lead the league. After being destroyed by New England three weeks ago, Cutler has responded with back-to-back games with 3 passing TDs—and he had 4 total last week against the Jets as he ran one in. To say he's on fire right now is an understatement, but I'm recommending benching him this week because of two things: the desperate Packers and their fifth-ranked pass defense at home, and the overall inconsistency of Jay Cutler. He might be able to best the 260 yards per game Green Bay gives up and match the 1 TD per game they allow, but he's also likely to help increase their INT (1.5 per game) and sack (3 per game) average—plus he's always good for a fumble or two. He could also be rested if the game gets out of hand one way or the other.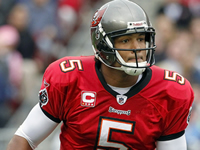 The Freeman fantasy is over.
Josh Freeman @ NO
Freeman's 213 yards per game might only be 25th in the league, but his 23:6 TD-INT ratio is better than everyone other than Brady and Cassel. Yes, he's coming off a career-best game against Seattle last week in which he completed 81 percent of his passes for 237 yards and 5 TDs! It's a shame the Buccaneers won't make the playoffs this year—they are an exciting young team and their head coach has got to win Coach of the Year. Still, New Orleans is fighting for playoff seeding, and while this should be a great game, I would put my money on the Saints' veteran, second-ranked pass defense over the second-year QB. New Orleans allows just 191 yards a game and their 11 TDs are the fewest in the league. If you've been riding the Freeman express, this might be the stop you want to get off at.

Running Backs