8/3/07



Welcome to the world of football statistics. If you aren't a stats guy, then frankly, this might not be the best place for you. But why are you playing a hobby whose livelihood is based solely of the statistics of the football players we love?

A lot of people out there don't like to look too closely at the stats when preparing for the upcoming fantasy season. Many suggest that there is too much guesswork involved with statistics, but the irony is that careful work here is the best combatant against speculation. Some may prefer to just go with the good ole gut feeling on draft day. For me, I work too hard at this hobby to just pick a flashy guy I like with a lot of upside and hope my instincts are right. I want to know if the stats line up.

You see stats are everything in fantasy football. Literally everything. You only get points if your guys get stats. A player's intangibles mean nothing. Your quarterback's savvy poise and your running back's ability to leave a guy standing there with his jock strap on the ground is worth exactly zero in this game. All that matters in the end are stats.

And so I set out on a journey to see where this game of fantasy football has been headed over the last 3-5 years from a statistical perspective. Follow along closely. You may not like all the numbers, but you'll surely like the extra trophies you've got over your mantle at season's end.

Today we start by looking at the most important position in fantasy football, the running back. We'll look at five statistical facts and how they affect your RB strategy for this upcoming season. Let's get started!

Fact #1 – Receiving Stats Have Become An Absolutely Vital Indicator Of RB Success In Fantasy Football

Too many fantasy football players today still yearn for yesteryear where the workhorse RBs abounded and guys everywhere were plowing through the middle of the line for great yardage and TDs. Today's game still sees some backs like those, but more and more of them are making a significant impact as a receiver now as well. Be careful that you don't discount receiving points for your RB. A point is a point no matter where it comes from.

Take a look at how many of the top 5 and top 10 running backs had at least 50 catches so far this decade:

RBs With 50 or More Receptions
Year
Top 5
Top 10
2006
3
6
2005
2
3
2004
3
5
2003
3
6
2002
2
5
2001
4
7
2000
4
7
Avg.
3
5.6
You'll notice that over half of the running backs that end up in the top 10 got a huge boost from the receiving part of their game. A running back with at least 50 catches averages over 3 receptions per game. This might not seem like much, but teams are doing more and more to get the ball to their best players in the open field, and a normal yards per catch (YPC) for a running back is generally between 7 and 10. If you think about it, under normal scoring that counts 1 point per 10 yards receiving, that's close to 1 point per catch, and 3 or more points per game for such a RB.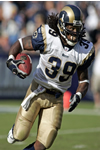 Notice also that 60% of the top 5 RBs in the last seven years, an average of an even 3 per year, also reached this 50 receptions plateau. Shaun Alexander has been a common exception near the top of the list or that percentage may have been even higher. And it doesn't stop there—some RBs are having bigger seasons due to even greater receiving numbers. Over that same time period, almost 2 of the top 10 RBs every year had at least 65 catches, or an average of more than four per game. Of those RBs with 65 or more catches, 75% of them ended up in the top 5 overall. And you wonder why Steven Jackson and his 90 catches last year is such a hot commodity!
Maybe you're still skeptical. If you're paying attention, you may have already noticed that 4.4 RBs in the top 10 each year did not have 50 catches – almost half of them – so maybe you're not so concerned. Well, a RB does need have to have 50 catches to be successful… but if he drops below 25, then he is in real serious trouble of making it into the top 10. Take a look:

RBs With 25 or Fewer Receptions
Year
Top 10
2006
1
2005
3
2004
4
2003
0
2002
0
2001
1
2000
1
Avg.
1.4
Fantasy Implications
On the positive side, you can rest well at night if you own a guy like LaDainian Tomlinson, Steven Jackson, or Frank Gore with their good receiving numbers. Even if the rushing falters a bit, the receiving numbers should keep them ranked pretty high. Be careful that you do not overlook guys like Brian Westbrook, Reggie Bush, and Maurice Jones-Drew. Although their rushing numbers may not make you feel warm and fuzzy inside, they will make up so much ground in the receiving game that they have a great shot at finishing in the top 10 or higher!
On the negative side, make sure you are careful about predicting top 10 finishes for a few guys. Rudi Johnson has never had 25 catches in a season, but he's been an exception to the trend each of the past three years. In fact, if you take him out, there is an average of just 1 RB per season in the top 10 with so few catches. So here's a list of guys to be careful with:
Shaun Alexander
Travis Henry
Cedric Benson
Willis McGahee
Brandon Jacobs
None of them have had more than 30 catches at any time in the last three seasons, and history indicates that only 1 of that group will be sitting in the top 10 at the end of this season!



Fact #2 – A High Number Of Rushing TDs In One Season Has Become A Fantastic Indicator Of Fantasy Success The Following Season

This one seems like a no-brainer when you read it. Duh, of course someone with a high number of TDs should be sitting pretty in your rankings going into next season. But as this year draws near, I am consistently seeing people discount guys like Maurice Jones-Drew and Marion Barber III, expecting their touchdown numbers to drop in a big way for this season. Was last year a fluke? You might think so, but history says otherwise for these guys.

In the last three years, a RB with 12 or more rushing TDs one season had at least 9 the following season 86.7% of the time! Backs were only counted here if they were not injured, moved to another team, or retired. Here are the numbers:

RBs With 12+ Rushing TDs One Year - At Least 9 The Next
Year
12+ TDs
9+ TDs Following Year
2003
4
3
2004
7
6
2005
4
4
2006
7
??
Avg
5
4.3
So of the 15 RBs in the last three seasons that had 12 TDs and came back to the same team situation, only 2 of them did not have at least 9 TDs the next season. Therefore this is a very good indicator of high TD probability for the following season. In fact, the average number of TDs for a RB in this group was 14.4 TDs the following season! And that includes the RBs who did not make it back to nine the following year. Even if you take out Alexander's record breaking season in 2005 (and this isn't counting Tomlinson's stats from last year yet either), the average RB in this group still gets 13.5 TDs the following season!
Fantasy Implications
There were 8 running backs that had at least 12 rushing TDs last season. One of them was Corey Dillon who is either retired or will be playing on a new team, so he does not count. That leaves 7, and recent history shows that 86.7% of them will have at least 9 rushing TDs this upcoming year – that is 6 of the 7!
Take a look at these names:
LaDainian Tomlinson
Larry Johnson
Marion Barber
Steven Jackson
Maurice Jones-Drew
Willie Parker
Rudi Johnson
If history holds true, all but one of them will get at least 9 rushing TDs this upcoming season, and the group as a whole will average over 13 per back! And that's not even counting receiving or special teams TDs. So don't be so quick to write off guys like Barber and Jones-Drew.

One other note to consider here, Corey Dillon had at least 12 TDs in each of the last three seasons. He is retired now, but he may well leave his legacy to Laurence Maroney. If Maroney can stay healthy, he has an excellent chance to fit into this mold as well.

Fact #3 – Non-Traditional RBs Will Make A Huge Difference In Your Fantasy Football League – No Longer Do You Need Those So-Called "Workhorse" RBs To Dominate Your League

Everyone in fantasy football goes to sleep at night dreaming about workhorse RBs who will average 25 or 30 carries a game, run down the defense in the fourth quarter, and drag their team through the regular season and all the way to the world of trophies and championships. Well… everyone is mistaken.

First of all, take a guess how many RBs average 30 carries a game. The answer is 0. That would be 480 carries in a season, an absolutely insane number. Heck, even 25 carries a game would come out to 400 carries in a season, a total that very few in NFL history have matched. Larry Johnson was the only one to do it last year, with an NFL-record 416 carries, and there were only four others before him. For a quick side bar, let's take a look at how those true workhorse RBs fared after they topped 400 carries:
James Wilder, TB, 1984 –

Over Wilder's 7 final seasons, he was plagued with injury and had over than 200 carries once and over 110 just twice. He averaged 3.8 YPC during that span with a total of 13 TDs before retiring.



Eric Dickerson, LA, 1986 –

Through Dickerson's first four seasons (this his 4th), he had just less than 7000 yards and 55 TDs. After he broke 400 carries, he played just 12 games in the next two injury-plagued seasons and had just 6300 yards in his remaining eight seasons. He broke 1000 yards just two more times and double-digit TDs once before retiring at age 33.



Jamal Anderson, ATL, 1998 –

Anderson had a whopping 410 carries, an NFL record until last season, for 1800+ yards and 14 TDs. The next season he tore his ACL, eventually played another full but mediocre season, injured the same knee again, and mercifully retired at age 29. After the 400-carry year, he averaged 3.6 YPC with 8 total TDs.



Terrell Davis, DEN, 1998 –

Davis is included with an asterisk here. He had just 392 carries but went well over the 400 mark on the road to the Super Bowl. Through these first four seasons, Davis had over 6400 yards and 61 TDs, a sure Hall of Fame pace. But like Anderson, he tore his ACL the season after the 400 carries and struggled to ever recover from it. He averaged 3.8 YPC with 4 TDs total after the injury and, like Anderson, retired at age 29.



Eddie George, TEN, 2000 –

Unlike the above runners, George is the only one to not suffer serious injury following the season with 400 carries. Even so, he never again broke 1200 yards despite playing healthy and averaged just 3.2 YPC the rest of his career before retiring at age 31 due to a broken-down body.
Now to those four (or five?) RBs with 400 carries in a season, add Larry Johnson. Uh oh. Is he still the #3 RB on your boards? Is he still top 5? He's not a first rounder in mine. History stands remarkably against him. And history doesn't even take account a brand new quarterback and a rapidly declining offensive line. Let's just say you've been warned. I'll even go so far as to say this: avoid Larry Johnson completely this year, next year, and every year after that.
All right, back to the task at hand… do you still want that workhorse 25-30 carry RB? I didn't think so. Lucky for you, that didn't narrow down the RB pool too much.
But the fact is that the "workhorse" fantasy RB is nothing more than just that – a fantasy. There are still a couple stalwarts, but as a whole, running back scoring is down in a big way. Take a look at the points per game for the #10 RB in the league under normal fantasy scoring (at least 14 games to qualify).

PPG of the #10 RB
Year
PPG
2000
15.3
2001
12.0
2002
14.1
2003
14.9
2004
13.1
2005
13.1
2006
11.9
You can see a pretty steady decline in the points per game there, down over 3 points in the last six years! TD numbers for top 10 RBs are also down. Check out the average number of combined TDs for RBs in the last five years, not counting the #1 RB for each year because of some outlying statistical seasons.

So you can see that scoring is dropping within the top 10 as well. The guys at the very top are still scoring as many points as ever (or more than ever if your name is LaDainian), but the rest are slowly slipping back toward the rest of the pack. In fact, just over the last three years, the number of top 10 RBs with double-digit TDs has dropped each year from 8 to 7 to just 6, last season. The RBs at the top are as valuable as ever, perhaps even more now, and the rest even by the bottom of the top 10 just aren't scoring as much as 10, 5, even 3 years ago! The "workhorse" RB, as we once assumed it to be, it is all but dead. Backs just aren't getting nearly as many carries, yards, and TDs anymore.
Number of TDs On Average For a RB Ranked #2-#10
Year
TDs
2002
14.8
2003
13.0
2004
13.0
2005
13.6
2006
12.0
Last year this proved truer than any other season in recent history, with more RBs than ever making a big fantasy impact without getting a ton of carries. Coaches have learned how to diagram and use their players in creative ways whether in passing situations, goal line packages, or high YPC situations to maximize their RB production. And fantasy RBs are benefiting greatly because of this. Take a look at the number of RBs with 250 or fewer carries who finished in the top 15 fantasy rankings at RB:

RBs With 250 or Fewer Carries
Year
Top 15 RBs
Highest Finish
2000
2
12th
2001
2
11th
2002
2
9th
2003
2
13th
2004
2
10th
2005
1
10th
2006
6
6th, 8th, 10th
So in 2000-2005, there were a grand total of nine RBs with 250 or less carries who finished in the top 15 and just three in the top 10. And then last year alone, there were six such backs who finished in the top 15 and another three in the top 10! These numbers are staggering. And it should be pointed out that 250 carries is a fairly small number, coming out to just about 15 carries a game. Furthermore, that's a ceiling number; some of the RBs are getting significantly less than 15 carries a game. One year alone is not enough to call this a trend, but it's clear that we need to at least be aware of RBs making a big fantasy impact without getting a ton of carries each game.
Fantasy Implications
So what does that all mean? It means that RBs are finding new ways to do their damage, and they need fewer carries on the ground to do it. Pair this up with the previous two trends if you want a sneak peek at two of the biggest ways these RBs are making up ground – it's through receiving points and high numbers of rushing TDs.
What is the profile for one of those lower-carry RBs who finish in the top 15? Well check out these numbers. A top 15 RB who has 250 or fewer carries this decade has an average of 52 receptions and 10 TDs per year! No wonder they are doing well, huh? And this is not a point-per reception (PPR) league either, but again points add up the same from anywhere. Here was the average stat line:
209 rushes, 4.86 yards per carry, 13.4 rushes per game 48 receptions, 10.8 TDs
Notice again the common denominators: lots of catches, lots of TDs, and a high, yards per carry. These are RBs who don't get as many touches, but they take advantage of every touch they do get. This group of six last season included, by order of finish:
Brian Westbrook (6th)
Maurice Jones-Drew (8th)
Ladell Betts (10th)
Joseph Addai (11th)
Deuce McAllister (13th)
Marion Barber (14th)
You may recognize that list as a group of guys who, other than Addai, are being overlooked time and again coming into this year's draft. Your buddies would rather try to draft a supposed "workhorse" like Cadillac Williams or Marshawn Lynch or Jamal Lewis. Well, let them. Don't be afraid to take a guy who doesn't get a ton of carries each Sunday if the rest of their game adds enough fantasy points to make up ground and keep them near the top of your rankings.
I have Maurice Jones-Drew, Marion Barber, Reggie Bush, Jerious Norwood, and Ladell Betts significantly higher than the average draft position found in most rankings around the web. Even though none of them will probably end up fitting the normal "workhorse" picture of a RB, they are each economical with the touches they do get. You'd be wise to bump them up on your boards as well.
Oh, and avoid Mr. Larry Johnson at all costs.
Fact #4 – There Are More RB2s Available
Combine everything you've seen so far now to understand the real underlying theme of all this RB mumbo jumbo. The bottom line is that there just aren't as many great RBs anymore but because of the rampant RBBC and use of RBs in the receiving game, there are now more usable RBs than ever.
Consider a RB usable if he averages 10-13 points a game for at least 12 games in a season. This makes him a pretty strong RB2 type for your team. Remember, the #10 fantasy RB in your league last year averaged just 10.9 ppg, so a RB in this range is right on par with that group. Take a look at the recent increase:

RBs With 10-13 Points PPG
Year
10-13 PPG
2004
11
2005
10
2006
16
You see how many more decent backs there are now? There's a lot. There's going to be a top 7 or 8 RBs and then a gigantic tier of 10-15 (maybe even more) usable RB2s. You've got several teams now (New Orleans, Jacksonville, etc) who may end up having a pair of starting RBs each week like they did last year.
Fantasy Implications
So how does this big shift affect your draft strategy? I'd say it does so in two ways.
First of all, it looks like those RBs at the very top are becoming more valuable than ever. Raise your hand if you were in a league last year where the Tomlinson owner didn't at least strongly contend. It didn't happen. Do you have any idea how good he was? He had more points than the #9 and #10 fantasy RBs combined. That's not to say that he'll repeat the task this year. It is to say, however, that if you are absolutely positive you are getting one of the top 2 or 3 fantasy RBs for a season, it looks like it will probably be worth just about whatever price you have to pay to snag them. They really do make up that much ground.
The big switch is in drafting philosophy in the second round and even perhaps the bottom of the first. It's time to move past the idea of reaching on a RB's potential just for the sake of taking a RB. It is no longer sound fantasy strategy to just draft the best two RBs on your boards in rounds 1 and 2 and go from there. It might be the case, but now more than ever you may want to really consider getting that superstar WR in the second, and you may want to invest that high pick in a guy like Manning or Gates. You might be able to get a pretty comparable RB now in the 3rd, 4th, even the 5th. Use those high picks where they are most valuable. That simply isn't RB anymore. Get your superstar early, then fill out the rest of your roster and get one of the many usable RB2s after that.
Fact #5 – On Average, Only 4 RBs From The Previous Year's Top 10 Carry Over From Season To Season
Yes, you read that correctly. Look at the breakdown by season:

Repeat Top 10 RBs
Year
Repeat Top 10 RBs
2001
3
2002
4
2003
6
2004
3
2005
5
2006
4
Av

g.

4.2
You may find this awfully hard to believe. You're not alone. I dare you to find a published RB ranking list out there that doesn't have LaDainian Tomlinson, Steven Jackson, Larry Johnson, Frank Gore, and Willie Parker in it. Those guys were last year's top 5, and yet history says that it's very likely that at least one of these guys won't even make the top 10 this year. And even if four of them do, then the five guys in the bottom half of last year's top 10 are apparently all out. It's a cutthroat league. Fantasy stalwarts are not what they used to be. There are no more Curtis Martins and Eddie Georges that you can just auto draft in the first round and chalk up for the automatic 1300 and 12 season.
Fantasy Implications
So let's stay away from those cookie cutter rankings. Yeah, we all know who did well last season. This is a new year. Think about it this way. More of last year's top 10 RBs will end up missing the top 10 this year than making it again. For some of them it will be due to injury or playing time. Others just won't be as good.
So who can we reasonably expect to repeat last year's top-10 performance? Here is the list in order under standard scoring:
LaDainian Tomlinson
Steven Jackson
Larry Johnson
Frank Gore
Willie Parker
Brian Westbrook
Tiki Barber
Maurice Jones-Drew
Rudi Johnson
Ladell Betts.
A couple of them are easy. Tiki Barber is retired, so he's out.

LaDainian Tomlinson is just about as easy. He has been in the top 7 since 2001, and in the top 4 since 2002. So barring some catastrophic injury, he's staying. Now we only get to pick 3 more RBs to repeat in the top 10.
Rudi Johnson is almost as easy, actually. He is probably not going to show up at the top of your list, but he better be in your top 10. He's been there each of the last three years and has had PPGs of 14.1, 14.2, and 13.5 in those three seasons. Those numbers put him solidly in the top 10 by recent trends, and there's no real reason to expect this year to be any different.

Ladell Betts looks like a good candidate to drop, with Portis back and at least mostly healthy.
Ok, we're getting there. So far we have 2 in and 2 out. But that leaves 6 left to pick from and only 2 more spots. Are you really prepared to have only 2 of the following in your top 10 this season: Jackson, Johnson, Gore, Parker, Westbrook, Jones-Drew? You put up a ranking list with four of those guys missing from your top 10 and you will be laughed out of your league. But history shows that you are on the right track.
I'm going to go ahead and put Steven Jackson in from that group. He can drop 100 points from last season and still make a top-10 appearance. He is young and healthy, his OL is improved this year, and he matches the criteria for a top stud RB with lots of receptions and TDs.
And that leaves us one spot left for the rest of these guys. I'll let you make the pick here, but consider a bit of a warning with each one:
Larry Johnson – He is one of very few backs who have carried for 400+ times in a season, and history is not on his side. Neither is his aging OL or brand new QB, nor the potential hold out. Stay away.
Frank Gore – Norv Turner had a ton of success with Gore last year, but he's gone now. Gore has a history of knee problems but stayed healthy all last year for the first time in 5 football seasons. He had an amazing 5.4 YPC, but how long can he keep that up?
Willie Parker – Pittsburgh has vowed to open up the passing game this year and let Big Ben throw to his receivers more. They have also promised to lessen FWP's load by giving goal line touches to another back. Is there trouble in Pittsburgh?
Brian Westbrook – Westbrook has never played a full season in his NFL career, and he is often injured throughout each year. His career high in rushing TDs is just 7. And there are the health concerns for QB Donovan McNabb to boot.
Maurice Jones-Drew – MJD finished hot last year and ended up with an amazing 5.7 YPC, can he follow up? And how long will he keep getting the TD touches in a crowded backfield and on a team with many red zone targets? Will there be enough touches to go around?
Well, you read all of that stuff, and suddenly its not so outlandish to have 4 of them sitting out of your top 10. Heck, you may want to avoid them all now! If you've been following closely, though, you probably have a good guess as to which of the 5 is my best bet to repeat in this year's top 10, and it may come as a surprise: Maurice Jones-Drew. He is young and healthy, has proven very difficult to tackle, and should continue to see more touches in that offense. Furthermore, he fits all of the criteria above for a RBBC guy who can make a big impact other than just rushing yards by adding big points elsewhere: receiving stats, rushing TDs, and maybe even a special teams TD. Yep, he's my pick.
Oh and while you're at it, don't forget that this also means you're going to see a whopping 6 new guys in the top 10 at the end of this year. Joseph Addai counts – he finished 11th last year. You will probably want to add a healthy Alexander back into your top 10 too.
But you get to find 4 more as well! Go ahead eat your hearts out. And watch those trends above. You want a few hints? Make sure you do your homework on Reggie Bush, Marion Barber, Laurence Maroney, and Edgerrin James. And enjoy the legwork. That's what this game is all about!
Coming soon, we'll look at some important statistical trends at the WR position…