8/6/07



Hello again, good to see you. Well we've been down the injury road with Quarterbacks and Running backs. This week it's the receivers' turn. With receivers, you have to keep a bit more of a watchful eye for those injuries that aren't as major, but still nag them for most of a season, if not even into the offseason. A lot of wide receivers will come back more quickly from an injury but see their play dramatically affected the rest of the season. Let's sort out this mess and see where all of these injuries have left the receiver crop this year. We'll start with some of the top WRs and fill in the rest. Remember to check back next week for a final installment—tight end and kicker injuries. Off we go…

Steve Smith, CAR
Injury – Strained Hamstring, August 2006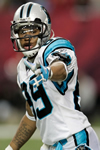 Progress – Smith strained his hamstring last year during the preseason and sent fantasy players into a panic. Sure enough he missed two games, and he was an early "buy low" candidate before busting out in a big way and finishing off the year quite well. With a whole offseason, rest assured that the hammy is healthy and ready for a big 2007.

Fantasy Implications – Smith gets a bad rap from owners who consider him "injury prone." This is not an injury prone football player. Yes, he tore his ACL a couple years ago, but that was a freak incident and he's been better than 100% since his return. And yes he missed a couple games to a sore hammy last season, but he healed quickly and still put up top 7 WR numbers. In fact, he was the #2 WR in PPG behind only Marvin Harrison last year, and playing all year as a speed receiver with a hamstring that was not 100%. The bottom line is this guy is the safest, best bet at WR in your draft, and he should be taken without hesitation by the top part of the second round – at the latest.
Torry Holt, STL
Injury – Offseason Knee Surgery, February 2007
Progress – There are some mixed reports about Holt's knee as we head toward the 2007 season. Some who are watching this closely say that Holt is on schedule and should be better than ever in 2007 after finally repairing the knee that has bothered him on and off for the last two seasons. But others suggest that the knee is still bothering him, and at this point, the implication for a 30-year-old receiver is the knee could continue to nag him throughout the rest of his career.

Fantasy Implications – This is a tricky one. Holt's receiving numbers have indeed declined each of the last three years. But even so, he finished with 1188 yards last year (and 10 TDs) – not too shabby at all. But it's also not top 3 on your WR board. Maybe Holt's knee really will be better than ever. But there are enough question marks there to be concerned – the knee obviously, but also the emergence of workhorse Steven Jackson as a stud and the signing of Drew Bennett and Dante Hall this offseason. The guess here is that Holt may well end up back in the top 10 again this year, but he's no longer the sure bet he once was. You are probably better off passing on him at the top of the second. If he is really healthy again, his value will never be more than that anyway, so you can trade accordingly. Find a safer bet for now.
Larry Fitzgerald, ARI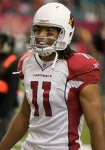 Injury – Strained Hamstring, October 2006
Progress – Fitzgerald was already back and playing healthy by the end of last season – at least mostly healthy. With almost a year now since he tweaked the hamstring, there should be no lingering concerns about the injury as we head toward 2007. Fitz is healthy and ready to go.

Fantasy Implications – Like Steve Smith, Fitzgerald showed what a great athlete he was last season by overcoming a hamstring injury midseason and still performing as a stud top 10 player afterward. He averaged almost 12 ppg over his last six games after dealing with the hamstring, and he had as many or more catches as Anquan Boldin in 7 of the last 8 games. He is clearly the favorite for Matt Leinart, and he's the red zone favorite as well. He should "bounce back" and better be near the top of your rankings again this year.
Randy Moss, NE
Injury – Sprained Ankle, December 2006
Progress –It's been a tumultuous few years for a guy who was once the king of fantasy receivers, and the badly failed Oakland experiment is finally over. Moss will now play with the best QB he's ever suited up with – by far, probably – and reports out of New England are that he is healthy and ready to play. The ankle is good to go, and his teammates swear that he is as fast as ever.

Fantasy Implications – If there's one thing we know about Randy Moss, it's that he has put up some sick production when he plays with a chip on his shoulder. Bill Belichick has been the master at finding one such player each year who steps up it in New England – see Rodney Harrison and Corey Dillon – and Moss is this year's project. Considering that Moss is falling into the fourth and fifth rounds this year, his upside is just far too high to look the other way. If he is really healthy, his numbers are going to be top five, and that makes him a fantastic gamble over other WRs available in the same spot like Hines Ward, Darrell Jackson, and Deion Branch. None of those guys can suddenly explode for 1200/15, but you know dang well that Moss very well might. If it's the middle of the fourth round and you already have a pair of star RBs and a top WR, what is there not to like about taking a flier on a guy who can put your roster over the top if you're right?
T.J. Houshmandzadeh, CIN
Injury – Bruised Heel, September 2006
Progress – A bruised heel is no major injury by any stretch. It cost Houshmandzadeh two games last year, but he was back and played healthy the rest of the season. To be fair, TJ does seem to get a petty injury like this each year that costs him a game or two, but it's nothing to be too worried about.

Fantasy Implications – With Chris Henry out at least half of the year, the spotlight will be solely on the shoulders of Chad Johnson and TJ Houshmandzadeh to produce in Cincinnati. Carson Palmer is fully healed and ready, and Houshmandzadeh has shown himself to be the more consistent of the two. In his 14 games last season, he scored at least 8 points in 10 of them. For comparison sake, CJ played all season healthy and only had 9 such games. If you're looking for the perfect WR2 for your squad in the early fourth, look no further. *Championship*
Marques Colston, NO
Injury – High Ankle Sprain, November 2006
Progress – If you've ever experienced a high ankle sprain, then maybe you have an idea of how devastating this injury can be despite sounding relatively minor. Most athletes never recover fully from a high sprain until the offseason, and many of them end their season early to start the healing process. Colston was affected in a huge way by the ankle. He missed three games, and he was never the same the rest of the season or playoffs. But high ankle sprains cause no permanent damage, and Colston has looked ready to go for the 2007 season so there should be no lingering concerns.

Fantasy Implications – While there are no lingering concerns, there is a ton of lingering upside. People forget just how much of a superstar Colston was last season before the injury took out half of his season. During the first nine games of last season, he amassed 869 yards and 7 TDs, an average of over 14 ppg. Marvin Harrison was the #1 WR last year and he ended the year at 13.0 ppg. To put it another way, if Colston had not sprained his ankle and had continued at his pace instead, he would've finished with about 1575 yards and 12 TDs –the #1 WR in fantasy football. This guy is a superstar. And yet he's falling into the fourth round because… well, I don't know. Just take him.
Hines Ward, PIT
Injury – Strained Hamstring, September 2006 … Sprained Knee, November 2006
Progress – Hines Ward is a pretty physical player, and we've seen the effects of a long, great career as a physical receiver these past few years. The hamstring injury bothered Ward enough that he missed the entire preseason and into the year, and the knee injury limited him as well. None of the injuries should leave any lasting effect, but Ward has become one of those guys who is going to play most weeks despite being listed as probably or questionable.

Fantasy Implications – Ward is a tough guy, and he consistently plays through the injuries that he experiences. Everyone is ready to jump on the Santonio Holmes bandwagon this year, and I'm not discounting it, but don't just count out Ward yet either. His days of being a fantasy star are probably over, but he has consistently approached 1000 yards each of the last three years with an average of 7 TDs. Expect similar numbers this year—nothing to get too excited about, but you won't be too disappointed, either.
Plaxico Burress, NYG
Injury – Back Spasms, September 2006 … Sprained Ankle, July 2007
Progress – Burress has developed a reputation for picking up a bunch of minor injuries, and this reputation is merited. His back bothered him much of last season, and now he sat out a lot of this summer's preparation with the ankle injury. He's also had consistent hamstring and shoulder injuries plaguing him throughout his career. Nothing major has happened to leave a lasting mark, but it has become clear that Burress is a very talented player who just doesn't always play through the pain, and now it is frustrating his teammates as well.

Fantasy Implications – Plaxico has missed at least one start in 4 of the last 5 years, and the injuries never seem to disappear. To be fair, his stats at the end of the year may never quite what you hope for, but they are solid. Expect another year of the same sort this year, with a lot more downside than upside with all of the minor injuries and him not getting along so well with his teammates and coaches.
Darrell Jackson, SF
Injury – Turf Toe, December 2006
Progress – Darrell Jackson is another of the seemingly large pool of middle tier WRs who struggle with some new injury every year. In 2005, he missed 10 games with the knee problems and eventually surgery. Last year he only missed 3 games, but it was right in time for your fantasy playoffs. The problem this time is that the turf toe does not seem to have healed right. Reports out of San Francisco are that the turf toe still bothers him, even daily, and that he has not got many reps on the field yet.

Fantasy Implications – This is troubling news for DJax owners. He has enough of a problem staying healthy as it is, so you certainly don't want to start with him banged up already. This doesn't sound too good. With a young new QB, this is the time when a receiver ought to be developing much needed rapport on the field, and you can't do that from the sidelines. DJax has always been a good, but not great receiver who has benefited from being on the same page as Hasselbeck, and with that advantage gone, his fantasy numbers may be in big trouble. Since he's going to cost you a fifth or even fourth, you would be strongly advised to look elsewhere.
Bernard Berrian, CHI
Injury – Bruised Ribs, November 2006
Progress – The rib problems caused Berrian to miss a couple of games in November, and like Colston above, the injury nagged him the rest of the season. The only real healer for something like bruised ribs is time, and Berrian has finally had the offseason to heal again. The injury should be behind him this season.

Fantasy Implications – Like Colston, you need to be careful not to forget the torrid start Berrian had last year. He hooked up early and often with Rex Grossman, especially on the long ball. Through October (before the injury), Berrian was averaging a nice, 10.3 ppg. Had he stayed healthy and continued that pace during the second half of the season, he would've ended up a top 15 WR – around the likes of Roy Williams and Plaxico Burress. Yet those guys are going in the third and fourth round, and you can get Berrian in the seventh or later. You ought to do so.
Ronald Curry, OAK
Injury – Torn Achilles, September 2005
Progress – Are we really talking about an injury from two years ago? Well, an Achilles tear is a huge deal and like an ACL injury, it generally takes two full years before someone is healthy and ready to go. Curry has had all kinds of leg injuries, and he even had a minor hamstring injury this May, but this if the first offseason in awhile where he hasn't been rehabbing the whole time.

Fantasy Implications – Quick, who led the NFL in receptions last December? Well I'm guessing the savvy among you would have guessed Mike Furrey had this question been posed on a vacuum, but the answer here is of course Ronald Curry—go ahead, look at the numbers. Curry should be starting alongside Jerry Porter and could be a good late sleeper pickup as a potential WR3, especially in a PPR league.

Devery Henderson, NO
Injury – Sprained Shoulder, October 2006
Progress – The shoulder injury knocked out about a month of Devery's season, but he was back healthy already last year so it should not have any lasting effects. In fact his biggest games came after the injury.

Fantasy Implications – That being said, it should be noted that two of Henderson's three big games in November occurred with Marques Colston on the bench nursing his ankle. Henderson had 438 yards and 3 TDs in November but just 307 and 2 the rest of the season combined. It looks like he's more of a handcuff to Colston than anything else, and he should not be considered much of a sleeper or anything more than that.
Joe Horn, ATL
Injury – Strained Groin, October 2006
Progress – Horn had a rough go last year, and it was tough to see him sitting on the sidelines all year after he had given so much to New Orleans and then had to watch them finally turn the corner without him. He missed 6 of the last 9 games and was pretty worthless from a fantasy standpoint. The injury is healed now, and Horn has moved on to Atlanta where he joins Joey Harrington and Bobby Petrino.

Fantasy Implications – Horn is pretty old for a WR at 34 years old, and his numbers have been slipping some for the last couple years already. There's a pretty decent chance he will just never be too valuable again. But he's flourished in year one on a new team before, and you know Petrino will have a wide-open passing attack. With Vick probably gone all season, Harrington may actually get some rapport. You never know, Horn could still have a year or two left. He's worth a late shot.
Greg Jennings, GB
Injury – Sprained Ankle, October 2006
Progress – Nothing much to see here, it's just a sprained ankle that cost Jennings two games and slowed him after a hot start. In his four games before the injury, he had 359 yards and 3 TDs. After he returned, he never had another TD or broke 70 yards again.

Fantasy Implications – It's hard to know how much the injury bothered Jennings, but a sprained ankle shouldn't have crushed his stats that badly. You know Green Bay will give him plenty of chances to make plays, but it's a bit alarming that Jennings caught less than half of his targeted looks last year. You probably shouldn't count on him too heavily heading into this season.
Brandon Marshall, DEN
Injury – Sore Quadriceps, July 2007
Progress – This is a very recent injury for Marshall, a darling sleeper among many of the fantasy world. He started training camp on the PUP list, which is some concern but should not be a huge thing. Then again, this sore quad has been a lingering injury, and he's also struggled with groin problems. With Rod Smith ailing and on his way out, the starting job next to Javon Walker's looks like Marshall's for the taking, but will he take it?

Fantasy Implications – All of these injuries are exactly what Marshall did not need. He really needed some time to develop rapport with Cutler, and this may affect his sleeper status more than you think. It may take him half of the year, maybe even all of it, before he really becomes very valuable.
Robert Meachem, NO
Injury – Offseason Arthroscopic Knee Surgery, March 2007
Progress – Contrary to earlier reports, Meachem appears to be healthy from his surgery and is at 100% and cleared to practice.

Fantasy Implications – Meachem lost some valuable time with the offense, but with no established second WR in New Orleans he may still have a long shot to start. Still, you know he's going to be the fourth or fifth option behind Bush, Colston, Deuce, and maybe Henderson. The upside is there in this offense – look no further than Colston last year – but he may be a better long-term prospect.
Santana Moss, WAS
Injury – Sore Hamstring, October 2006 … Strained Groin, June 2007
Progress – Moss is one of those speedsters who are always going to be a little dinged up. The injuries take a toll on him, but he is ready for 2007 and has been cleared for regular practice and contact.

Fantasy Implications – Moss is someone to keep an eye on because he seems to post a top 10-year every other year – and last year was an off year. Maybe this year is an up year for him and he'll have a couple of those nice 3 TD games again.
Rod Smith, DEN
Injury – Offseason Hip Surgery, February 2007
Progress – Smith is struggling mightily in his attempt to come back from this injury. He is 37 now and is on his last wheels. He is currently on the PUP list and will probably start the season there. Things are not looking good.

Fantasy Implications – Smith has been on the decline for a while, and he posted just 512 yards and 3 TDs last year. Denver went out this offseason and signed a handful of other WRs as well. The writing is on the wall. It's time for Smith to bid farewell and prepare his Hall of Fame speech.
Matt Jones, JAX
Injury – Strained Hamstring, September 2006
Progress – Matt Jones has been a walking disappointment since entering the league. After posting freakish combine numbers, he leapt into the first round of the NFL draft and has been a tantalizing talent ever since, but he's never quite put it together. The hamstring cost him a few games and bothered him all season last year, and now he sat out spring workouts with a new quad injury.

Fantasy Implications – When healthy, Jones has proven to be as good as he looks. As last season closed, he caught a TD in 4 of his last 6 games and broke 100 yards twice in that stretch as well. He is clearly the most talented of the WRs in Jacksonville, but will he ever stay healthy enough for it to matter? As a late flier WR3 or WR4, it's worth the risk to find out.
Michael Clayton, TB
Injury – Sprained Knee, December 2006
Progress – The knee should be fine by now, but it was a bit troublesome that the team just gave up on Clayton and threw him on the IR for the last four games of the season last year. A sprained knee is not a major injury and shouldn't constitute a trip to the injured list. He should be fine now, but has he injured his way out of Tampa's lineup?

Fantasy Implications – Clayton is a very physical sort of player by nature, and this style of play will probably cause him to continue to struggle with these nagging injuries that he doesn't seem to know how to avoid. On top of that, Maurice Stovall has been making a big push this offseason and Gruden says that Clayton will be fighting for his starting job. At this point, Clayton looks like a guy who captured lightning in a bottle his rookie year and may have permanently lost it. He is a flier at best.
Brian Finneran, ATL
Injury – Torn ACL, May 2007
Progress – This is the same ACL that Finneran just tore last July, so he is out rehabbing another year and will miss the whole 2007 season.

Fantasy Implications – It goes without saying, but Finneran should not be on any roster at this point, no matter what the format. This clears up the WR situation a bit in Atlanta, where they finally have more of a pocket passer to get them the ball. So the real implication here is that someone like Michael Jenkins or Joe Horn could actually have an impact this year.
David Givens, TEN
Injury – Torn ACL And Meniscus Damage, November 2006 … Offseason Knee Surgery, April 2007
Progress – Givens has had all sorts of knee problems. The injury was late enough last season that it would still be affecting him at this year's start under normal circumstances. But these are not even normal circumstances, since the injury bothered Givens enough to have a second surgery in April, and he was still using a cane to walk as recently as May. He is in the PUP list and may stay there all season.

Fantasy Implications – Tennessee spent another first day draft pick on a WR and they just signed Eric Moulds as well. The writing is on the wall – Givens is done for this year. The real winner here might be Brandon Jones, a super-sleeper who could turn into a supernova on your roster.
Joe Jurevicius, CLE
Injury – Badly Bruised Ribs, September 2006 … Concussion, December 2006
Progress – Jurevicius is a warrior, and while you love to appreciate that, it also means that he's a guy who has been battling injuries most of his career. Last year was no different, missing five games and playing hurt for most of the rest. He starts this year mostly healthy again, but he plays so recklessly that it's bound not to last.

Fantasy Implications – If you are counting on Jurevicius in any way this season, you are probably hurting almost as much as him. Even if he is somewhat healthy, he's at best the #3 option in one of the worst offenses in the league. He's a panic fill-in WR if you have no options some week. Maybe you'll be lucky and get a TD.
Amani Toomer, NYG
Injury – Torn ACL, November 2006
Progress – Toomer is working hard in his return from the torn ACL last season, but the return is slow and he is not in great shape. On top of that, he will be 33 years old by the time the season starts, and the Giants have invested a day one draft pick on a WR two years in a row.

Fantasy Implications – Toomer's yards have dropped each of the last four years since his career year, and there's no real reason to expect anything to change in that trend. He should not be on your roster – but likely replacement Steve Smith (the other Steve Smith, from USC last season) probably should be.